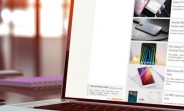 It rarely gets as exciting in the mobile world as week 42 of 2018. We saw so much new hardware that it was almost impossible to keep track.
Of course Huawei's event was the most interesting, delivering 4 flagship phablets as well as a couple of wearables. The Mate 20 lineup dominated the headlines and took over our trending chart.
Nokia delivered an exciting upper mid-ranger too – the X7 or 7.1 Plus as it will be known in most markets. Lenovo's S5 Pro and K5 Pro also got your attention and so did Vertu, which returned from the dead to bring the new Aster P.
In other news Xiaomi…
Powered by WPeMatico