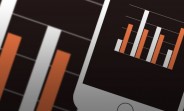 "Techtober" is over and finally see a week of relative calmness in our weekly chart of top 10 trending phones. There is some movement, of course, as the Galaxy A7 (2018) takes the first spot after ending up second best last week.
The Xiaomi Redmi Note 6 Pro comes in second up from 5th last week and it's rather expected given the popularity of the lineup, especially in India.
The recently launched Huawei Mate 20 Pro remains in the top three, while OnePlus' latest flagship, the 6T, falls down to 4th.
Right after the OnePlus 6T comes one of its direct competitors – the Pocophone F1….
Powered by WPeMatico