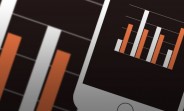 And the streak lives on – we've got an eight different phone leading our popularity chart in eight weeks as the Xiaomi Mi Mix 3 shot straight to the top after its announcement.
After last week's invasion of Mate 20 devices this week the interest towards the new Huawei flagship family has died down a bit and we only get two in the top 10 – the Mate 20 Pro in second and the Mate 20 X in ninth.
The podium is completed by Samsung's Galaxy A7 (2018) triple-cam mid-ranger, which edged the Xiaomi Redmi Note 6 Pro.
In fifth we have another new entry – the Xiaomi Black Share Helo gaming…
Powered by WPeMatico