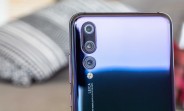 If you are facing a choice between two evenly matched phones, where one has a superior rear camera and the other has a better selfie snapper which way would you go? Chip and Yordan discuss.
Yordan: We can't have nice things because of selfie cameras
It was probably 2004 or 2005 when I was thinking: "Phones with front-facing cameras are so hot right now". They painted a futuristic picture where video calls were a daily thing. Oh how silly was I back then.
Video calling today surely is popular, but it is not the glamorous feature Isaac Azimov once pictured. It is just a…
Powered by WPeMatico