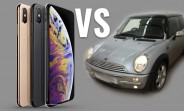 It's been highly commented upon in the past how expensive our phones are becoming year on year. This year the iPhone XS Max with 512GB costs £1,449/$1,449/€1,649. Causing many to pause for thought at what else they could or should be buying for that price.
New TV, a new laptop or a family holiday perhaps? What about a used car?
We're all fans here of Top Gear so the producers (or in this case our Lead News Editor) challenged us to find a used car for the same value as the tricked-out iPhone.
Paul: Let's break from the norm
In this head-to-head we would be comparing apples…
Powered by WPeMatico