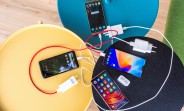 This Sunday Ro and Yordan are debating is the fast charging standard the way to go forward or should we stick to solutions which while not as fast have wider support – like Quick Charge by Qualcomm and USB Power Delivery.
Yordan: Wider support trumps speed
I'll preface this by saying that one of the main reasons I'm constantly seen with a Huawei device is the Super Charge tech. It is fast and reliable and really boosts the user experience. But it is limited to Huawei phones and this is why it has to go.
As someone into tech, I am religiously following everything new that…
Powered by WPeMatico