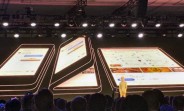 During its Bixby Developer Day, Samsung shared some new information regarding the Smart Assistant.
According to Samsung VP of R&D and Bixby development Eui-Suk Chung, Samsung is aiming to ship Bixby 3.0 with the foldable Galaxy F smartphone. That would tentatively pinpoint Bixby 3.0's arrival at March.
Sadly, Eui-Suk Chung hasn't shared anything specific about the improvements Bixby 3.0 will bring.
Otherwise Samsung's Bixby Developer Day hasn't brought any new information regarding the assistant. Talk revolved around the new Bixby Developer Studio and Bixby Marketplace, which are…
Powered by WPeMatico