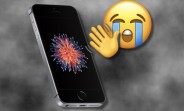 To quote Ecclesiastes 3:1-8
"There is a time for everything, and a season for every activity under the heavens:
a time to be born and a time to die."
This popular passage refers to the balanced, cyclical nature of life, helping to justify that there is a right time for everything.
But was this the right time for the demise of the iPhone SE?
When Apple announced the iPhone XS, iPhone XS Max and iPhone XR (don't get me started on those names) in the background it quietly retired the venerable iPhone SE.
When it all began: 6 years ago, back in 2012, Apple released the iPhone 5…
Powered by WPeMatico