OnePlus seems to have cut off the 6T's bezels in an ad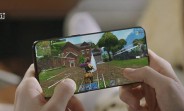 Remember the controversy regarding Lenovo's Z5 and its bezels that turned out to be much larger in reality than in its official images? Well, it sure looks like OnePlus hasn't learned anything from that debacle.
Here's a Twitter user noticing something strange about an ad for the OnePlus 6T that popped up on Instagram. Look closely, see if you can spot what's, erm, not quite true to life.
Hey @OnePlus that chin ain't that small 🤔 pic.twitter.com/lHtGOsznLt— Dro ⌁ (@pedropeguerojr) December 21, 2018
Yes, it appears that someone in the company's marketing department…
Powered by WPeMatico