New Xiaomi Play teaser hints at a Guinness World Record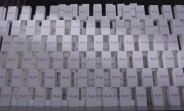 Xiaomi's teaser campaign for the Play smartphone it's due to unveil on December 24 is in full swing. We've already heard that it's going to arrive with 10GB of free monthly data, but the newest round of teasers is more intriguing to say the least.
Apparently the company might reveal that the Play is in some way record-breaking. What else should we infer from the image you can see below?
A Weibo post says that Xiaomi founder Lei Jun will participate at the launch next Monday and challenge a Guinness World Record with the phone. The Play will be Xiaomi's first device with a water…
Powered by WPeMatico