Moto G7 lineup revealed in press renders leak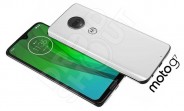 Motorola is getting ready to announce the Moto G7 lineup soon. Press renders for the Moto G7, G7 Plus, G7 Power, and G7 Play have leaked courtesy of DroidShout.com. The most apparent difference we can see is the addition of a now notched display which has black bezels. The Moto G6 had a perfectly rectangular display with bezels that matched the color of the model.
There are actually two types of notches between the four G7 models. The G7 and G7 Plus will have a tear-drop notch while the G7 Play has a full-sized notch with a single selfie camera and front-facing flash….
Powered by WPeMatico