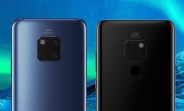 Tomorrow is the big day for Huawei fans – the Mate 20 and Mate 20 Pro will be revealed. There was an abundance of leaks building up to the event, which we will attempt to summarize here.
What's the difference?
The Huawei Mate 20 Pro will have a curved OLED display with a higher resolution than the non-Pro – 1440p+ vs. 1080p+ – and an in-display fingerprint reader. In both cases the screen size will be about 6.4″ (give or take a few tenths). The notches will be a different size as well, the Pro getting a wider notch to accommodate a more advanced face unlock system.
The Huawei Mate 20…
Powered by WPeMatico