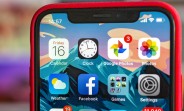 In the period between April and September of this year, Facebook has terminated some 1.5 billion fake accounts from its network and deleted 2.1 billion pieces of spam.
Facebook shared the staggering number in its Community Standards Report. The report breaks down how Facebook has dealt with issues like adult nudity, hate speech, terrorist propaganda, violent and graphic content and fake accounts.
According to Facebook many fake accounts are the direct result of cyber attacks.
The social network has gotten much better at recognizing and preventing violating content even before…
Powered by WPeMatico