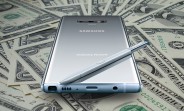 The $1,000 launch price of the Samsung Galaxy Note9 can seem a bit steep, but you don't have to pay sticker price. Not even close – starting today and until November 3 you can grab a brand new Note9 straight from Samsung for $400 and a trade-in phone.
The best part of the new promo is that Samsung will double the value of the trade-in phone for up to $600 off.
Here's a quick look at how much you can get for your old handset. You can also trade-in a Pixel or an LG phone, you'll find the full list at Samsung.com.
You can have the Galaxy Note9 in Ocean Blue and Lavender Purple, but…
Powered by WPeMatico