AT&T will turn on its 5G network this Friday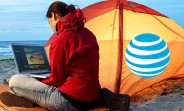 AT&T will power on its 5G network in 12 US cities on December 21 (this Friday). The first device to use the network is a Netgear-made Nighthawk 5G hotspot, but you can't have one yet.
For now the carrier is talking to businesses, giving them both the hotspot and the data for free. This is to gauge the interest in the new faster network. After the trial period is over the hotspot will go for $500 and the first data plan will offer 15GB for $70 a month.
Note that AT&T is working on two 5G networks – sub-6GHz and mmWave. The one being launched this week is the mmWave network, which can…
Powered by WPeMatico