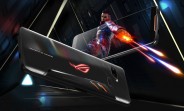 The Asus ROG Phone has two USB-C ports – the extra one is for accessories. And there are plenty of them. To that end, pre-ordering from Asus Italy between October 18 (today) and October 24, you'll get €100 credit for accessories.
The phone itself is €900 for the 8/256GB version, you can see it here. The retail box comes with the AeroActive Cooler, so that's a pretty good start.
You can pre-order the Asus ROG Phone in the US as well – from Microsoft of all places. It's $900 for the 8/128GB model, $1,100 for 8/512GB. Here it is on Amazon too.
Asus ROG Phone • The AeroActive…
Powered by WPeMatico