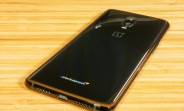 OnePlus announced the 6T McLaren Edition this week – in fact its most expensive smartphone ever. We've already unboxed it on video and gone hands-on, but now it's time for a different take on this device.
Our new video asks whether this is in fact better than a vanilla 6T, and will hopefully provide you with a non-black-and-white answer to that question. As usual with most things, it's complicated. The McLaren Edition does a lot right, but it could've been better and even, dare we say it, more exclusive and premium-feeling.
To find out why (and how), make sure to watch the video below….
Powered by WPeMatico