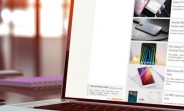 As we sweep week 49 of the year under the rug and look around to find there are only three left in the year, our news section sees an even bigger shift toward early 2019 devices.
The Galaxy S10 dominated the headlines thanks to a few leaked renders and an alleged screen protectors that showed dual selfie cameras, embedded under the display. Another set of renders pointed to four cameras on the rear.
In less glamours Samsung news the company was caught using a DSLR photo as promo for the portrait mode on the Galaxy A8 Star – for shame.
And finally we have a date for the announcement…
Powered by WPeMatico