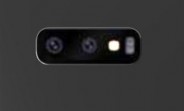 Samsung is doing a bold move by introducing a budget Galaxy S10 next year along with the regular premium versions and we've known for a while now that it's going to miss on the in-display fingerprint reader and will probably have a flat screen design to keep the cost low.
Galaxy S10 Lite case renders
The latest renders of the device further confirm the theory and show the device with a side-mounted fingerprint scanner and a flat screen design. We haven't seen those on a flagship Galaxy smartphone since forever.
But while it skips a couple of cool features, the S10 Lite still…
Powered by WPeMatico