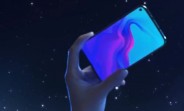 The Huawei nova 4 is coming in ten days on December 17 and will be Huawei's first crack at a phone with an in-screen selfie camera (and the second in the world).
So naturally Huawei will do all it can to hype up the phone as much as possible in the days leading up to its announcement (and steal as much from Samsung's Galaxy A8s spotlight as possible). The latest is the first official video teaser of the Huawei nova 4, showing a phone cleverly masked in a sky full of stars.
The nova 4 has taken some visual queues from the Huawei P20 Pro, especially the rear-mounted triple-lens array….
Powered by WPeMatico