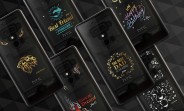 HTC is offering a special service in Taiwan – customizing the HTC U12+. You can add images, decals and text for a truly personal design. There's even a team of people that can teach you how to use the application with which to create that design (a quick 30-minute course).
Examples of what's possible with the HTC U12+ customizations
The 64GB version of the U12+ costs NTD 24,200 and the 128GB one is NTD 25,200 with this service. That's just an NTD 300 premium over the vanilla units ($10/€8.50).
The custom units have a translucent back panel, but it's a neutral color (so, not…
Powered by WPeMatico