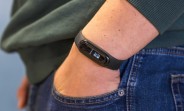 Intro
Xiaomi celebrated its 8th birthday with the introduction of the Mi 8 flagship, MIUI 10, and the Mi Band 3 wearable. As smartphone aficionados we were glad to see a new phone with Snapdragon 845 and whatnot, but the band also kept us buzzing for few days after.
Apparently the gadget was a hit at its domestic market, because when we were at the Mi Store in Shanghai two weeks later, the clerk sadly explained that all Mi Band 3 devices were sold out.
Eventually the device managed to arrive at our office, so here are our impressions.
Unboxing
The retail package is a simple…
Powered by WPeMatico