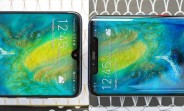 Today Huawei officially brought its Mate 20 series to the Chinese market.
The Huawei Mate 20 will go on sale in 6GG+64GB version for CNY 4,000 (€500) and 6GB+128GB priced at CNY 4,500 (€570).
Interestingly, Huawei will offer the Mate 20 Pro without a fingerprint scanner with 6GB of RAM and 128GB of storage for CNY 5,400 (€680).
The Huawei Mate 20 Pro (UD) matches what other markets get and will retail at CNY 6,000 (€760) for a 8GB+128GB model and CNY 6,800 (€860) for the range-topping 8GB+256GB variant.
The gargantuan Huawei Mate 20 X will go for CNY 5,000 (€630) and CNY 6,000…
Powered by WPeMatico