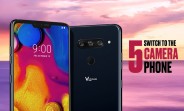 LG strategy seemed all over the place, but the scattershot approach has hit the bullseye – the LG V40 ThinQ got the approval of our readers in last week's poll, the vote was 3:1 in favor.
The company's firm commitment to the 3.5mm headphone jack and the hardware that makes it awesome (the 32-bit Quad DAC) have not gone unnoticed. LG's other passion, multi-camera photography won people over as well.
The V40 ThinQ is the first phone to offer both a wide-angle and a telephoto camera. Even that aside, the main camera has improvements over the LG G7 (larger pixels and a brighter aperture)….
Powered by WPeMatico