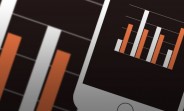 After last week Apple launched the new iPhone lineup it immediately occupied the first three spots in our popularity chart. Such a domination was never going to last, but it's still surprising how quickly the new iPhone trio started to lose ground despite just hitting the shelves.
The iPhone XS Max is the only one on the podium hanging onto second, while the regular XS and the XR are all the way down to fifth and seventh places.
The title this week goes to the Samsung Galaxy A7 (2018), which just debuted with its triple camera setup – a first for a mid-range phone.
The Xiaomi…
Powered by WPeMatico