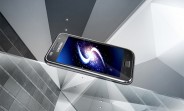 Before 2010, Samsung had many phone lines – the Omnia line was the star, a selection of high-powered Symbian or Windows Phone devices. There was the occasional Pixon camera phone or the low-budget Corby and, of course, the Galaxy phones.
Then in March 2010, Samsung unveiled the I9000 Galaxy S. It was a well-received phone, but no one could have predicted that its descendants will come to dominate not just the Android landscape but rank as some of the best-selling smartphones in the world.
This is its story and that of its children and grandchildren.
S for Super AMOLED
The Galaxy…
Powered by WPeMatico