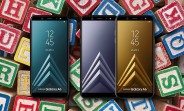 The upcoming shake up of Samsung's product lines is slowly being revealed through rumors. The latest is a summary of storage options and colors for the entry level Galaxy A and Galaxy M phones.
Samsung is reportedly seriously thinking about bringing White back as a launch day color option. But it seems that is reserved for the A-series, the cheaper M models will have a more limited palette. It's not clear if any of these are gradient colors or not.
The naming will change as well, moving to with double-digit numbers – so SM-M205F will be Galaxy M20 not M2.
Interestingly, storage is…
Powered by WPeMatico