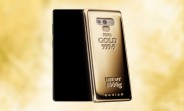 Samsung launched the Galaxy Note9 on August 9 with a price tag of $999/€999 for the basic 128 GB variant. It arrived in four fancy colors and Gorilla Glass 5 protecting the back panel.
The luxury smartphone company Caviar that is based in Russia decided that price and looks are not flashy enough and launched the Galaxy Note9 with 1 kilogram of pure gold on the back. We're not joking, just look at the images.
Caviar is not playing around
The Samsung Galaxy Note9 Fine Gold Edition retains its internals with Caviar choosing to focus on the looks only.
The Russian…
Powered by WPeMatico