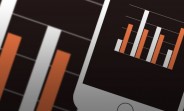 After more than a month of rapid movement, the top 10 trending phones chart had finally had a relatively calm week. There are still three new names, mind you, but the top five contains the same phones as last week.
The Xiaomi Redmi Note 5 Pro kept its lead ahead of the Oppo Find X and the only change on the podium is the Samsung Galaxy J8, which replaces its J6 sibling.
The Galaxy J6 is still around in fourth, just ahead of the Xiaomi Redmi 6 Pro, which also slipped a position and is now fifth.
The higher placed of two new entries is the Huawei nova 3 in sixth, pushing the Samsung…
Powered by WPeMatico