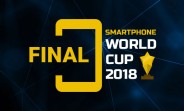 It's been a long and exciting tournament – passions high and tensions rising, especially in the two semi-final matches. We've tallied up the scores and the final is lined-up. It's the Samsung Galaxy S9+, against the OnePlus 6.
Samsung Galaxy S9+ • OnePlus 6
Now, that's a tough battle, if we ever saw one. Speaking of which, the two semi-finals were definitely no walk in the park. Any speculations or excuses for hard or easy groups and match-ups is now out of the question. There are really no real losers beyond this point.
Innovations and futuristic looks took the vivo…
Powered by WPeMatico