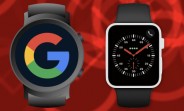 Introduction
Last week we covered the wearables to come out already in 2018, but now we'll take a look forward to what we'll be strapping to our wrists later this year. While the first half of the year yielded few surprises, our expectations for the remainder of 2018 are high.
The second half – things will be much less predictable
The latter part of 2018, on the surface at least, promises a welcome evolution in this space and maybe, just maybe, a few surprises.
Let's start with the basics. Earlier this year Qualcomm announced its latest smartwatch SoC, the Snapdragon Wear 3100….
Powered by WPeMatico