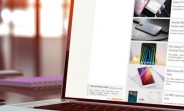 As we settle a bit after a few hectic weeks of major announcements, we can drink our Sunday coffee and look back at what shaped the news in the last seven days.
There were no truly big announcements this week. Huawei introduced the Honor 10 GT with 8GB of RAM, Samsung added the On6 to its lineup in India, Asus launched an aggressively-priced ZenFone 5Z aimed at OnePlus' market. Speaking of OnePlus, it announced the Amber Red OnePlus 6.
What got more attention were leaks regarding the next iPhones, Galaxy Note9 and the Xiaomi Mi Mix 3 and Mi A2.
A 2018 iPhone revealed it will have 4GB…
Powered by WPeMatico