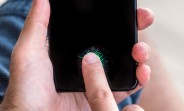 With makers chasing ever increasing screen to body ratios for their flagships, there's just no room for the front-mounted fingerprint scanner of yesteryear. Where should it move though – under the screen or round the back – Rossen and George discuss.
Ro: "The in-display fingerprint is the future."
If it were up to me, I would have kept the fingerprint reader on the front on modern phones, but the trend of bezel-less displays is driving the fingerprints to the back of the device. The chin can no longer house them.
But don't get me wrong – I enjoy those full-screen…
Powered by WPeMatico