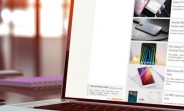 LG finally took the wraps off the G7 ThinQ this week. At that point we already had a good idea what to expect from LG's latest but it was nice to have the remaining blanks filled.
Samsung also unveiled a much anticipated duo – the Galaxy A6 (2018) and Galaxy A6+ (2018) were better protected from leaks but not completely immune.
After the two announcements there were the usual rumor mill-focused articles. The HTC U12+ and Xiaomi Mi 7 were confirmed for announcement on May 23 – separate events, obviously.
Finally, in a move to counter increased import tax, Xiaomi raised the Indian…
Powered by WPeMatico